Designed with expansion in mind...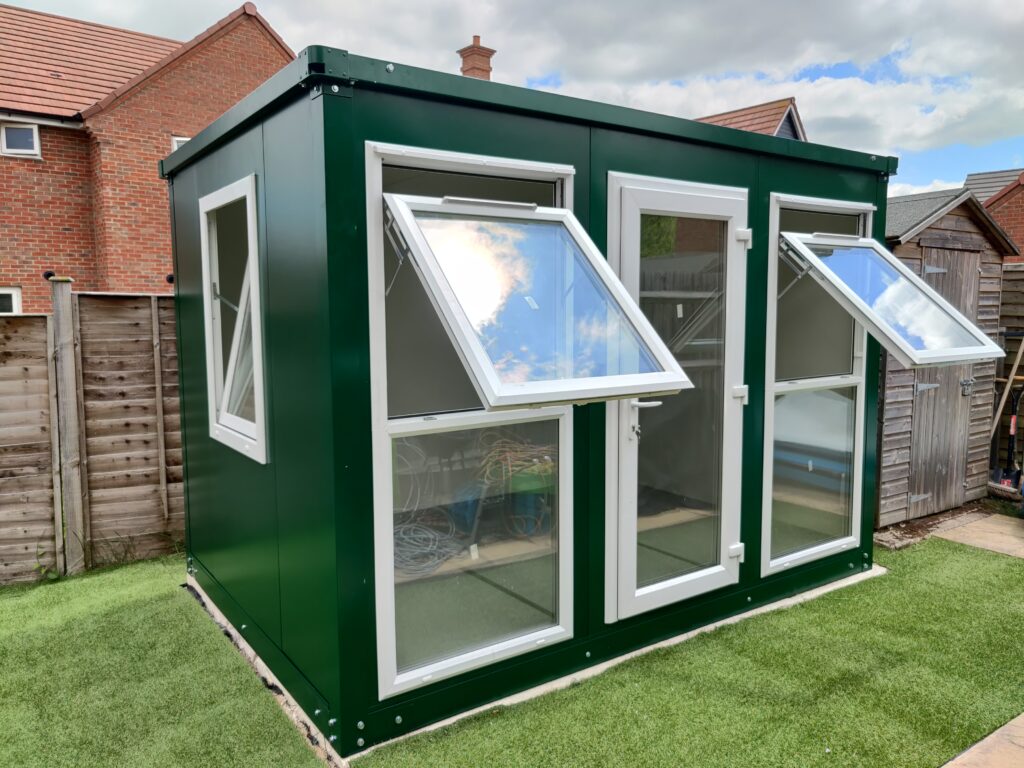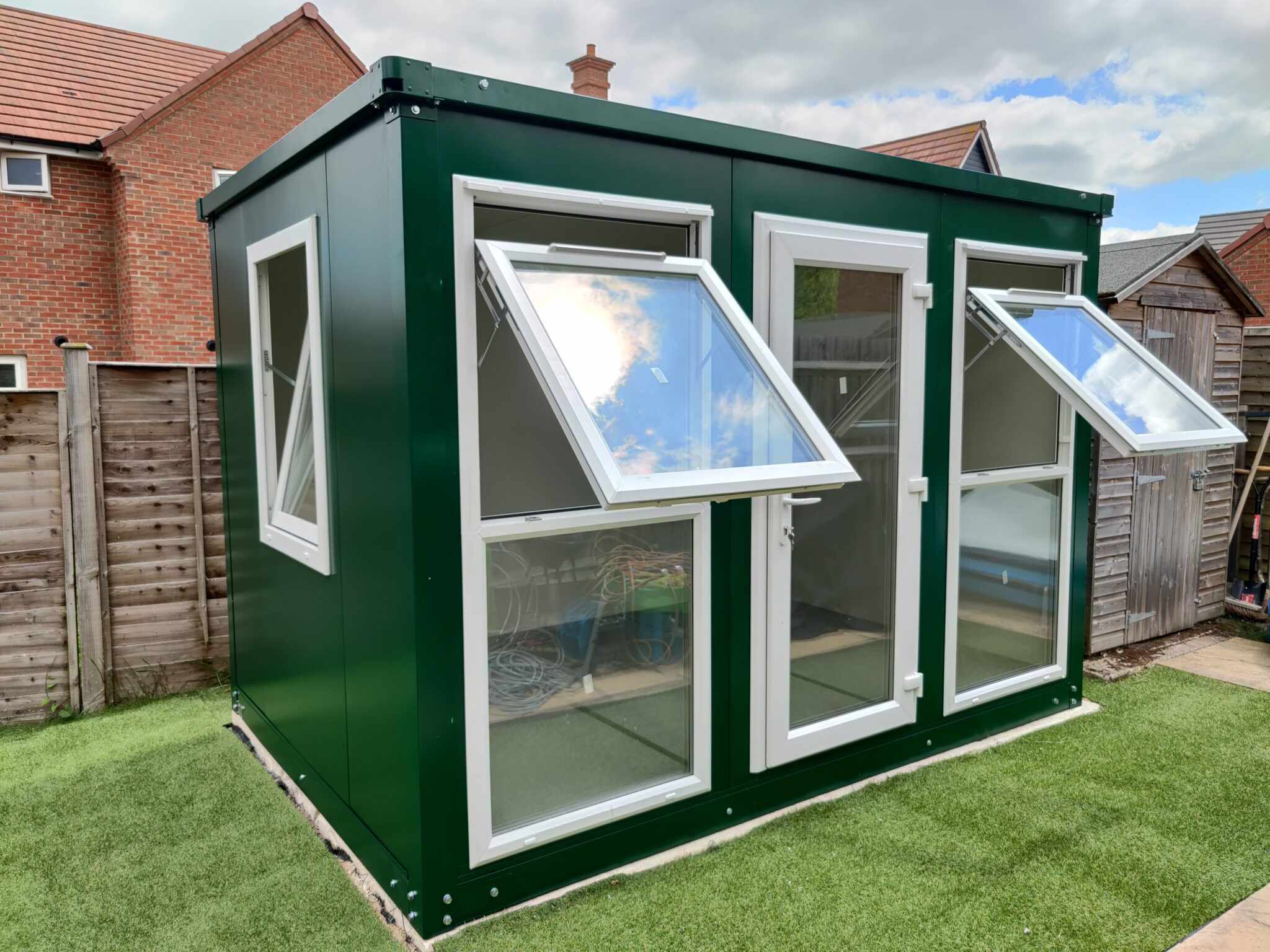 XPanda Home Office™ is a truly unique flat pack home office system, offering a wide range of innovative features that make it ideal for many uses and applications.
Since the flat pack home office was first launched in 2004, the entire structure has been improved not only aesthetically but the build quality and ease of use has been refined thoughout. A continuous programme of product impovement ensures that XPanda Home Office™ leads the market and stays ahead of the competition.
The standard XPanda Home Office™ has fully insulated walls and roof; The kit includes one fully glazed door, full height double glazed windows and one standard size double glazed uPVC window which can be sited anywhere in the building. Every portable office for sale comes with PVC floor covering that ensures a long working life in any environment.
Assembled or flat packed, XPanda Home Office™ can be lifted by crane and transported to a new destination.
A single cabin will take approximately two hours to construct depending on your fitness level and ability. We recommend four people for an easy, stress free installation! Just get in contact to discuss your needs, and we'll happily quote you and give you a complete price of the portable office for sale.
Additional units can be added to the original to create larger areas of open plan space using our unique XPanda™ linking kit system.
We can design your office layout for you, please contact us with your requirements on: info@pandabuildings.com
Hi Andy, The buildings are absolutely splendid, thank you for your work in installing them and arranging for their delivery etc. They have really added to the school, I am really proud of them! Well done!
Assembly of the XPANDA HOMEOFFICE
Features
Man-portable: No lifting gear or cranes required

Demountable: Dismantles into flat pack form quickly

Flexible: Available in a range of sizes with a range of accessories
Comfortable: Fully insulated, light and spacious

Complete: Everything required for assembly is in the kit.
Versatile: XPandaHomeOffice can be used anywhere you can carry them!

Secure: New improved double locking system is standard

Simple: No specialist tools are required for assembly, just a socket set

Quick: Ready for use in around an hour

Robust: Latest version features thicker walls and improved overall sturdiness
Modular: XPandaHomeOffice can be linked to create larger office areas

New Improvements
Improved security features and larger windows enhance appearance.
The door and frame have increased steel thickness.
The edges on the roof have been replaced with specially designed die-cast aluminium corners. This improves the appearance, strength, durability and protects the corners from knocks when moved from site to site.
Now fully stackable with the optional stacking/linking kit.
Unique flat-pack design means each XPandaHomeOffice office is totally man-portable and can be carried to even the most inaccessible places and assembled in less than an hour.
The walls and roof are manufactured from galvanised steel ensuring long life.

Flatpack. Portable. Robust. Expandable.
Easy to Assemble.
Call PandaBuildings to find out more about the XPandaHomeOffice on: 01795 701 131

X
PANDA

HOMEOFFICE

™ Technical Specification
Size / Dimensions
Assembly Instructions
Brochure
Planning Permission
Size / Dimensions
Length: 2.3m or 3.3m or 4.3m
Width: 2.3m or 3.3m or 4.3m

Height: 2.1m
Assembly Instructions
Brochure
Planning Permission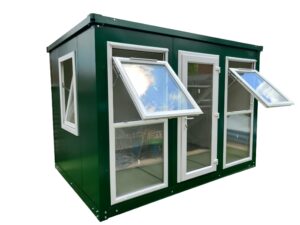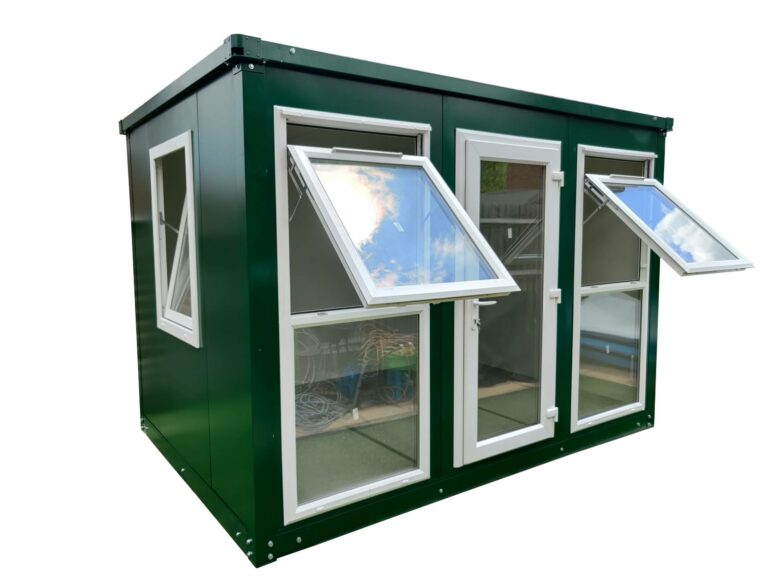 Sizes available: 2.3 / 3.3 / 4.3m (L) x 2.3 / 3.3 / 4.3m (W)
Protective powder coated green finish.
Prices start from £4,385.00 (plus VAT)
Numerous accessories available